Located in the city centre. In front of Casa del rey moro. It is 50 metres far from Palacio de Salvatierra, Arco de Felipe V and Casa del Jalifa. It is 100 metres far from Convento de Santo Domingo, the New Bridge, the Old Bridge and the Santuario de la Vírgen de la Paz. The hotel is 250 metres far from the Bullring, the commercial centre, Fuente de los ocho caños, the Baños árabes, Palacio de Mondragón, Basílica de Santa maría and the Townhall.
About Hotel Ronda
The hotel has a living room-lobby and 5 rooms. All of them are facing the street. The rooms have telephone line, Internet Wi-fi connection, TV, air-conditioning and heating.
All the rooms have a private well-equipped bathroom:
2 double rooms with a bed of 135 x190 cm
1 double room with a bed of 150 x200 cm
2 twin rooms with 2 beds of 105 x190 cm
The hotel is decorated in a modern style, with minimalist and traditional details that are congenial with the cobbled streets and the old façades of the city houses.
The service provided is that of offering accomodation in a peaceful and calmed environment in the old part of the city. Given the size of the hotel, one will feel at ease in a familiar and close atmosphere.
What identifies this hotel located in the so andalusian, and yet so universal, town of Ronda is the feeling of peace and comfort, as well as the beautiful views, the elegance of what is modern in an old town and the personalised treat received.
The area offers local and regional natural resources, historical and cultural sights and events and a rich culinary culture. You can also do country tourism, cultural tourism and active tourism (such as guided trekkings, horse-riding routes, night trekkings or ethnographic paths' excursions). It is also an interesting location to do birdwatching.
Ronda is a starting and arriving point for the Ruta de los pueblos blancos and is close to Ruta del toro, as one can feel in the so present bulling history of the region .
Our guests in the hotel now can enjoy themselves in Club Deportivo San Luis (www.serraniaderonda.com/clubdetenissanluis), located 6 km from the hotel. They can use 3 tennis courts, 1 frontennis, 1 crystal paddle ground, a bar and restaurant with a terrace, a swimming pool of 25 by 12 m., a children swimming pool of 7 by 4 m, a gym, changing rooms, showers, big parking zone and a children's park (for the paddle and tennis court previous reservation must be done and the guests have to pay the rent).
Modern and elegant rooms with free Wi-Fi, air conditioning, TV and private bathroom.
Offers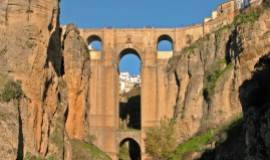 Best price for your reservation on our official website.
5% discount for your reservation, only on our official website!
MORE